About Me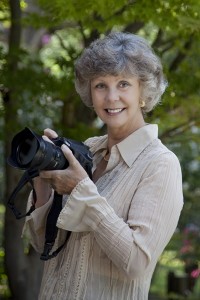 I  was born and raised in England. I have been interested in photography ever since my Uncle Monty lent me his Zeiss Ikon camera, a medium format manual camera from the 1950′s. He had no children, so it gave him great pleasure to share his love of photography with me.
For some of the years I worked for Shell in London I was in charge of the photo library, in Media Services Division. I worked with exhibition designers, book publishers, educators, and anyone else who needed photographs of Shell's activities worldwide.
After I married and was raising a family in Houston and Dallas, Texas, I took photos for use in the yearbooks for the schools my three sons attended. Now that my sons have left home I still work with the Advanced Art students at Fairhill School in Dallas.  I consider that working with the students to inspire a love of photography in them is a part of my uncle's legacy to me.
I have attended workshops led by such great photographers as Steve McCurry, Joe McNally, and David Noton, Charlie Waite, and Antony Spencer from England. In 2006 I was on a National Geographic round the world trip with Bob Krist. All these professionals have helped me take my photographic skills to the next level and I am very grateful to them for all their advice and guidance.  The pursuit of excellence has allowed me to become certified as a "Master Photographer" with the Plano Photographic Society.
My work has been published in "Outdoor Photographer", "Cornwall Today", "Falls City Journal",  the "West Briton", and the "Western Morning News." I have also provided portraits for several people's websites, exhibition brochures, catalogs, marketing materials, and for personal use. The National Portrait Gallery in London acquired one of my portraits.  I have given photographic seminars at Midway College, Kentucky, and a lecture on photography at Peru State College in Nebraska.  In 2014 I was invited to exhibit my work at the Mall Galleries, just off Trafalgar Square in London.  I have also been invited to give talks to many camera clubs.
I published a book in 2006 entitled, "For Love of Cadgwith", the proceeds of which went to a local charity in Cadgwith, Cornwall, England, where we now own a vacation home. Prints of some of the photographs in that book have been sold for charity, used for postcards, and bought by individuals.  In December 2009 my second book was published, "In the Heart of Cadgwith."  Proceeds from the sale of this book go to the Fishermen's Mission, the RNLI, and the Cadgwith Christmas Lights Fund.  In 2010 I did the photography for a calendar which was sold in aid of Leukemia Research.
In 2011 and 2012 I provided many of the images for the book which accompanied the BBC television series, "The Fisherman's Apprentice" with Monty Halls; a six part series of one hour programs.
In 2013 I was named "Photographer of the Year" with the Plano Photography Club.  I am also trained as a judge with the Photographic Society of America, qualified to judge camera club competitions, and most recently I was asked to be a portfolio assessor for the Photographic Society of America.
In 2016 I was awarded the distinction of Licentiate with the Royal Photographic Society, London.
Thanks for looking!